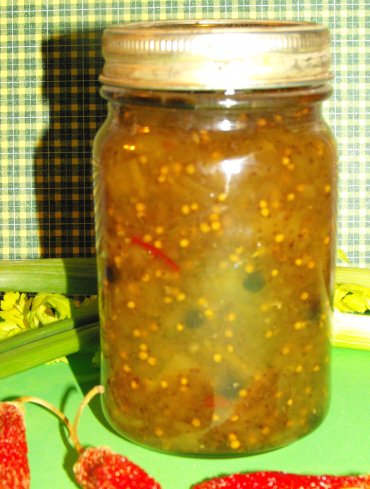 One of the things I miss most about my life in these latter years is giving up vegetable gardening and canning and freezing the bounty gardening produces. As far back as I can remember, I did everything from washing canning jars, to breaking beans, shucking corn, picking produce and helping to preserve such. My sister and I have such wonderful memories of sitting under the big trees in our grandparent's front yard breaking beans while our mother and grandmother picked more. My grandpa was disabled with leg problems so he couldn't do the picking. He would tell us wonderful stories of his youth while we worked. We didn't realize at the time, the wonderful history lessons we were getting! And it was so much fun, we never thought of it as work. The following recipes are some of the old family recipes from my youth for some good crisp pickles and a delicious carrot relish.
CARROT RELISH
4 cups (approx 10 med) carrots
3 cups (about 7 med) finely ground onions
1/2 cup finely ground green bell peppers
1/2 cup finely ground red bell peppers
1 1/2 cups finely ground cucumbers
1/4 cup coarse pickling salt
1 1/2 cups white vinegar
2 cups granulated sugar
1 1/2 tsp celery seed
1 tsp mustard seed
Combine vegetables in a large bowl. Sprinkle with salt. Let stand 30 minutes. Combine the remaining ingredients and let stand, stirring often, while vegetables are soaking in salt. Pour vegetables into a large sieve; drain well, pressing vegetables lightly with a back of a spoon to remove all excess liquid. Stir vegetables into vinegar mixture and ladle into hot, sterilized jars. Top with hot lids to seal.
I love this pickle recipe. Like so many of the old recipes in my collection, it is a recipe for an experienced cook. The quantity instructions are vague so this is a recipe only an experienced canner would know how to make.
SWEET-SOUR PICKLES
This recipe is so old I don't remember anything except is was always around. I never made these pickles myself. My family was small and did not use as many pickles as my mother and grandmother did.
cucumbers, small or sliced
2 cups vinegar
1 cup water
1 cup sugar
few mixed pickling spices tied in a bag
Put cucumbers in a large bowl or a crock; sprinkle with the salt. Cover with boiling water and let set overnight. Next day, drain the water off. Boil the vinegar, water, sugar, and pickling spices. Drop the cucumbers into the hot mixture and bring back to a boil. Fill jars and seal.
Enjoy!