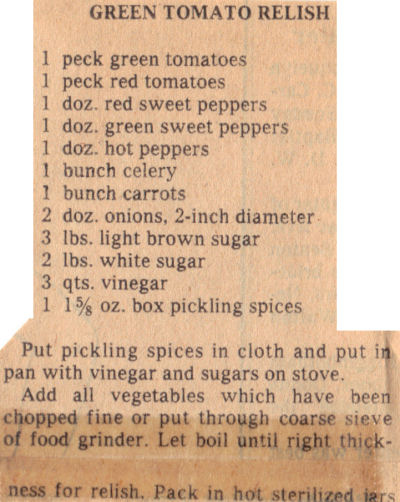 "Putting Up" your own pickles and relishes is a favorite summertime ritual for many of us. This was on of my favorite things as a child, teenager, mother and wife. All except for washing and scrubbing hundreds of canning jars as a child, that is!! It is also one of the things I miss most now that I am a senior citizen living in the city. But I do still enjoy sharing my canning recipes. If you want to try some "new" recipes for canning, let me introduce you to some "old-fashion" ones. Today's article includes recipes for canning your own Sweet Lime Pickles, Watermelon Pickles, and Zucchini Relish. These will make great additions to your pantry!
HOMEMADE SWEET LIME PICKLES
Slice 7 pounds of cucumbers and soak in 2 gallons of water. Add 2 cups of lime. leave in this for 24 hours. Wash well and soak in water for 3 more hours.
Cover with this solution:
2 qt. vinegar
9 c. sugar
1 tbsp. salt
2 tsp. whole cloves
2 tsp. celery seed
1 tsp. mixed spices
Let stand overnight in this solution. Bring to a boil and can.