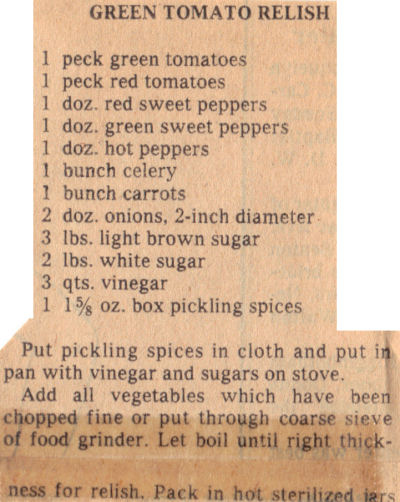 Add a little touch of something extra to your meals with homemade relishes. There is something very satisfying in putting a dish of relish on your table that you made yourself. Relishes are also perfect in gift baskets, as hostess gifts, etc. These old fashion recipes for Hot Relish and Carrot & Sweet Onion Relish are easy to make and offer two very different options.


HOT RELISH
Another old Southern Indiana recipe.

12 hot peppers
12 green tomatoes
12 cups red and/or green bell peppers
12 onions
3 cups sugar
3 tsp salt 2 cups cider vinegar

Grind vegetables. (In today's modern kitchen this can be done with a food processor.) Place in a large colander and run water over the mixture for 5 minutes.

Bring the sugar, vinegar, and salt to a boil in a saucepan. Place the vegetable mixture in a large saucepan or a stockpot. Pour the boiling sugar mixture over the vegetable mixture. Cook over medium heat until very hot but not to a hard boil, stirring occasionally. Place in pint jars, attach canning lids and seals tightly. Be sure jars seal (they should make a popping sounds and/or the center of the lid will indent slightly.)

Makes 6 pints.


CARROT AND SWEET ONION RELISH

2 sweet onions, chopped
2 carrots, chopped
1 tsp fresh rosemary, chopped
1 bay leaf
1/3 cup cider vinegar
1/3 cup water

In a medium-size bowl with a lid, combine all the ingredients and stir well. Place cover on the bowl. Refrigerate the relish at least overnight. Before serving, remove the bay leaf and drain the liquid.

This is a good relish to serve with poultry, fish, and pork.

Enjoy!